---

FlavorSnow Shaver and Shaving Kit Prices:

Please be sure to Contact Us! We will mail you our free info packet and we'll have your e-mail address so we can notify you of any future special unadvertised discounts and special FlavorSnow™ offers and events. Please be sure to see our Discount Packages too!

2006 Model FlavorSnow Shaver™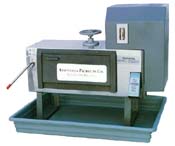 (shown above with Drip Pan which is included in the shaver kit below)
FlavorSnow Shaver
For Current Prices Click Here!
IMPORTANT NOTE: The shaver drips water during normal operation so we highly recommend a "FlavorSnow Shaver Kit" All shipping charges extra.

Get started with ice shaving equipment above or click below to save even more with one of our discounted equipment, flavor and accessory packages that include all the industry specific items necessary to produce excellent quality Shaved Ice, Snowballs and Sno Cones.
Click here for our Discount Package Prices!
Copyright © 1995-2019 FlavorSnow Mfg. Co.™ All rights reserved.
Revised March 22, 2019