Home
Great Business Opportunity
What's Involved
FlavorSnow FAQ's
Ice Shaving Equipment
Block Ice Makers
Flavor List
Discount Packages
Shaved Ice Trailers
Contact FlavorSnow
Useful Misc. Info
Pricing
---
The 2006 Model FlavorSnow Block Ice Shaver™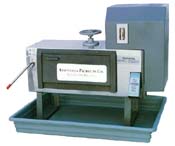 Ice Shaving at it's Very Best! Our 4th generation 2005 model block ice shaver, the FlavorSnow Shaver™, represents over six decades of proven commercial ice shaving technology.
This "state of the art" block ice shaver design produces snow so powdery fine and fluffy it actually rivals natures own. The FlavorSnow Shaver™ holds the ice block securely in place during the entire shaving process. It's three blades shave at a fast rate for high performance snow output. Also, with our shaver, the operator's hands never need to touch the snow!
So easily maintained and economically priced that, in the right location (and combined with FlavorSnow's™ excellent line of great tasting flavoring concentrates), this shaver can pay for itself in less than one day!
The FlavorSnow Shaver™ at right is showing the easy to load front opening with magnetic door latch. It's shown here with partially used but still large block of ice. Blocks that weigh as much as 15 Lbs. can be utilized. Large block size means fewer stops to reload.

Look at the fluffy dry powder snow BLOWING out of the spout. This high production speed, coupled with rugged industrial grade quality construction is what makes this shaver a clear winner!

If you close your eyes, you can just imagine green dollars blowing out of the spout!

Keep in mind, for a high quality Shaved Ice product, fine fluffy snow and great tasting syrups go hand in hand! Now it's time to make your product complete - it's time to pour on the syrup!

Use FlavorSnow™ Flavoring Concentrates along with the easy instructions we provide to create the best tasting, gourmet quality Shaved Ice, Snowballs and Sno Cones. Don't even think about imitators - for the best there is use the best since 1932...
Standard Shaver :

Lifetime Limited Warranty *

Fast, High Volume Snow Output

Powerful 3/4 Hp AC Electric Motor (See all motor options at right)

Heavy Duty Dual Pole On/Off Switch

Durable Stainless Steel and Anodized Cast Aluminum Construction

Sealed Ball Bearings

One Piece Tri-Blade Cutterhead Impeller

Combo Belt Guard and Motor Cover (Plastic)

Magnetic Door Latch

ETL Listed - Health Department Approved

Shipped Fully Assembled - Ready to Shave

Compare our standard shaver features to any other shaver on the market and you too will understand why we think the FlavorSnow Shaver™ is the best shaver money can buy - at any price!

* Limited Lifetime Warranty to the original purchaser on factory defective parts and workmanship of shaver body only. Warranty does not cover normal wear and tear, regular maintenance or blade sharpening. See motor warranties at right.

Standard Motor:

Motor Options:

12 Volt DC Motor:

½ Hp, 12 Volt, Continuous Duty

Runs off 12 Volt DC Deep Cycle (Boat) Battery

Cool, Quiet and Efficient Operation

Eliminates the need for an AC Power Generator

This option is especially convenient for vendors with mobile operations such as Shaved Ice Trailers. 12 Volt DC battery power is cool, quiet and efficient. And you won't have to deal with the noise, heat and fumes associated with electric generators. (12-volt Battery and battery Charger Not Included unless purchased with a trailer)

220 Volt "Convertible" AC Motor:

The 220 Volt optional motor runs more efficiently than the standard 115 Volt motor and will save you money in utility costs over the life of the shaver. It's also the motor to choose when importing the shaver into countries that have 220 Volt as standard power. NOTE: Your outlet must be wired for 220 Volt AC power to use this motor.

* Six Year Limited Warranty on Standard ¾ Hp Motor. One year on 12 Volt DC and 220 Volt Convertible Motors.
Call FlavorSnow at (800) 878-9546 or e-mail to: sales@flavorsnow.com
---
Copyright © 1995-2019 FlavorSnow Mfg. Co.™ All rights reserved.
Revised March 22, 2019